If you have been hanging for awhile now you probably know that my wardrobe consists of white, gray, black, jeans…. repeat, with the occasional prints! Focusing on my whites,  I have to say that they occupy probably 1/4 of my closet and are first in line up. I am always attracted to its crisp look, you can use it basically all day and night and just with a few changes you can easily transform your look. In my closet white tops are a basic essential for summer or any season, I live in Florida so it is a must around the year. I rounded up my favorite top styles! Some I have, others I want 😉
White Tops- Basic Essential for Summer
Tees
PIN IT!
I can say I am in and out of tees almost every day!! This sounds sad but I'm a mom of three and just want to dress comfortably yet still be classy and put together. V-neck is my go to favorite and even though I have it in other colors too (don't get excited is just black and gray) I'm going to focus on the whites 🙂
 Gap
 Old Navy
Nordstrom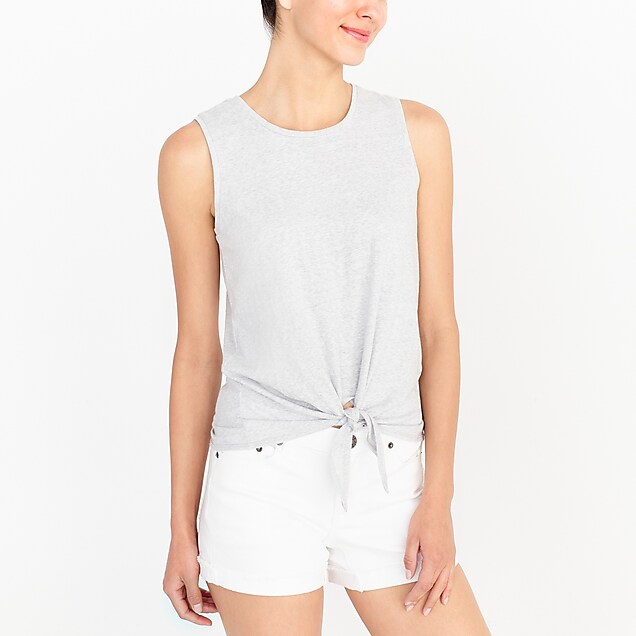 Collard Button, Structured Shirts
PIN IT!
A button shirt I considered  it to be the most versatile style. You can wear it all buttoned up for a structured masculine look or open it up over a dress, a swim suit, tee, camisole and it is great as a layer.
Peasant Blouse
If you love a loose, flow look this is for you! I just found this one but I really loved it and had to share it with you ladies!
 Madewell
Camisoles and Sleeveless Blouses
A  camisole or sleeveless top is a relaxed way to get dressed. Love how it accentuates your shoulders and arms, if you are into that!
Eyelet Blouses
PIN IT!
And what better trend that eyelet for spring and summer. These ones have the right amount of intricate eyelet pattern without being too empowering. Just right!
Any of these white tops can be paired with denim shorts,  hi rise crop flare, white on white or even with black. No matter which one you chose, wearing a white top is a classic, always in style essential! Go get them before they run out!
For more style inspo follow my Pinterest
Follow me for more on Lifestyle, Fashion & Beauty and Motherhood
PIN IT!